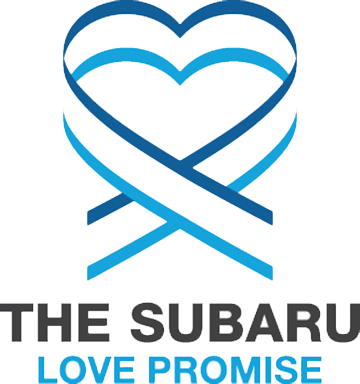 What is the Subaru Love Promise?
Subaru and our retailers believe in making the world a better place and the Subaru Love Promise is our vision of respecting all people. This is our commitment to show love and respect to our customers and to work to make a positive impact in the world.
How is Marin Subaru dedicated locally to the Love Promise?
Subaru and our retailers believe in making the world a better place and the Subaru Love Promise is our vision of respecting all people. This is our commitment to show love and respect to our customers and to work to make a positive impact in the world.
Giant Steps, Halleck Creek Ranch, Lily's Legacy Senior Dog Sanctuary, ASPCA, Marin Humane
West Marin Little League, Marin Century
Love Promise Stories from Marin Subaru
Subaru and Marin Subaru believe in making a positive impact on the communities in which we live and work. We uphold that belief through our Love Promise Community Commitment. Every month, we select inspiring stories from customers and partners from around our area who strive to support our collective commitment and feature them here
Marin General Hospital Blanket Donation - Marin General Hospital M
On June 30th, 2022, the Marin Subaru team delivered 80 blankets to Marin General Hospital cancer department as a part of the Subaru Loves to Care program! They teamed up with The Leukemia & Lymphoma Society to make this donation, and we are so appreciative of both organizations for their help and care for our many patients in need.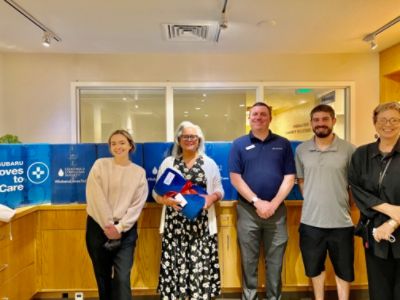 ---
2022 Giant Steps Farm to sTable Dinner - Olivia G
For the sixth year in a row The Giant Steps Farm to Table Dinner took place on May 21, 2022 at Flying Cloud Farm, Petaluma with the help of Marin Subaru. Giant Steps is dedicated to enriching lives through the power of horses, team, and community. Through our equine assisted programs; people of all ages, means, and challenges experience the extraordinary benefits of therapeutic riding and activities. This dinner is a fundraising opportunity for our many causes, and with the help of Marin Subaru we were able to raise $123,656 for our program. We are so grateful for Marin Subaru's continued support!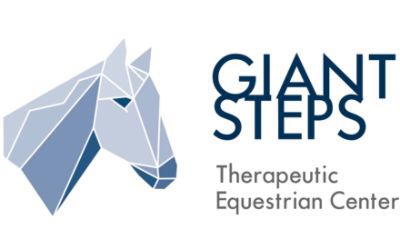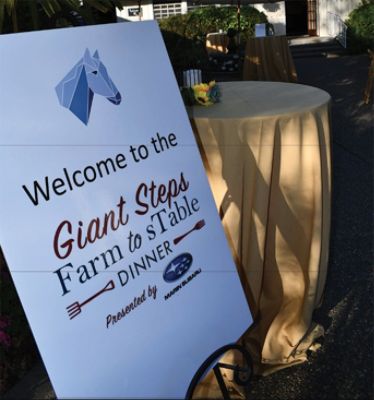 ---
Share the Love Donation to Vivalon - Olivia G
On Friday May 27th 2022, Marin Subaru presented another Share the Love donation to Vivalon. This donation will further Vivalon's cause to provide rides, meals, and care for thousands of elderly adults in Marin County. Marin Subaru has been contributing to Vivalon's cause since 2014 and we are beyond grateful for their donations of nearly $125,000 over the years through Subaru's Share the Love event. We are beyond grateful for Marin Subaru's Love Promise commitment!
---
Sausalito WAG Festival - Olivia G
On May 7, 2022, the City of Sausalito hosted its 5th annual Sausalito WAG Festival at Gabrielson Park. Marin Subaru was a proud sponsor at the event, showcasing our geyser blue 2022 Subaru Outback Wilderness for the community to explore in action at the park, along with getting approval from their canine companions. This event had a diverse selection of vendors that provided a variety of products and services for North Bay dog owners. The WAG Festival is held annually to engage the community with local businesses and raise funds for future events like the City of Sausalito's upcoming 4th of July celebration. Marin Subaru is proud to maintain this relationship and give back to our surrounding cities!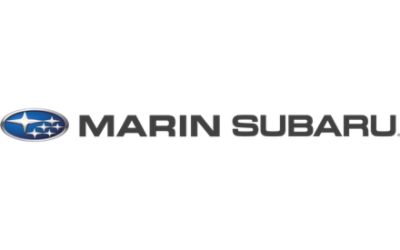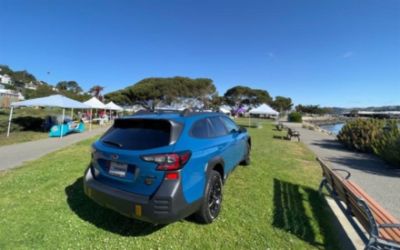 ---
COMMUNITY CHAMPIONS WEEK AT VIVALON - Vivalon V
Vivalon's March for Meals Community Champions Week takes place March 21-25 2022. During this time mayors throughout Marin County deliver meals to help raise awareness about the growing number of older adults in Marin facing hunger and isolation, both serious problems that have been exacerbated during the COVID-19 pandemic. Marin Subaru has helped Vivalon make many contributions to Marin County since 2014, as a part of the Subaru Love Promise Initiative.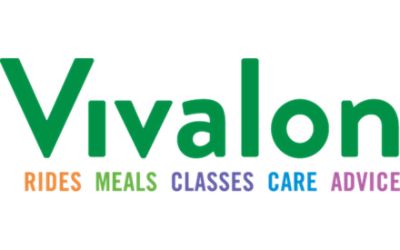 ---
Marin Subaru Bats Up for West Marin Little League - Donna G
We approached Marin Subaru to be our sponsor in early 2020. To our amazement, they signed up to be our TITLE sponsor, which is our top sponsor and provides critical support for our all-volunteer-run organization that offers baseball experiences for kids ages 5-14 living in San Anselmo, Fairfax and as far as Bolinas. Then the pandemic hit, baseball had to be put on temporary hold -- and Marin Subaru was so gracious and understanding about all of it. When baseball returned, so did Marin Subaru, and they have now been our title sponsor for three years in a row! Always friendly and responsive, in addition to the monetary support they have also worked with us to provide swag for our skills clinics and other fun activities for our players. They are a great community partner and we are deeply appreciative of their support of our league.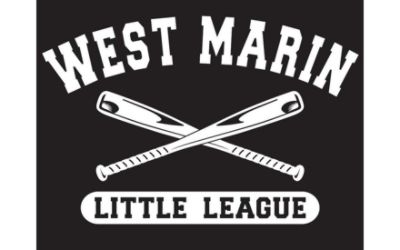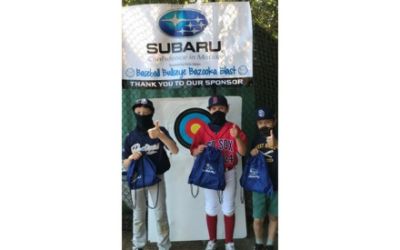 ---
Giant Steps with Marin Subaru - Katherine T
We have been so blessed to call Marin Subaru the loyal title sponsor of the Giant Steps Farm to sTable Dinner for the last two years, including during a pandemic when we were unable to host the event as planned. Partnering with Marin Subaru was a no-brainer for Giant Steps - having a company that so obviously cares about animals and at-risk populations support our work means the world to us. Giant Steps is dedicated to enriching lives through the power of horses, team and community. Through the excellence of our equine assisted programs, people of all ages, means, and challenges experience the extraordinary benefits of therapeutic riding and activities. At Giant Steps, we strongly believe that all people can break down barriers to lead richer, more independent lives, regardless of the disabilities or challenges they may face. We have harnessed the therapeutic power of horses since 1998 to help people of all ages overcome their physical, emotional, behavioral, cognitive and developmental challenges. Since then, the clients we've served have represented more than 60 distinct disabilities and challenges as well as members of our military. At times, people come to Giant Steps for more than therapy. They also want an enjoyable, social activity and a place to connect with others. Programs we offer range from mounted therapeutic riding classes to ground equine facilitated learning lessons that help clients improve their physical strength and also enhance their emotional and social capabilities. Over the years we have experienced many stories of transformation, seen our clients become physically stronger, more socially engaged, and emotionally aware. This is what drives us, and we are so grateful to Marin Subaru for continuing to support us and our programs, regardless of pandemic status.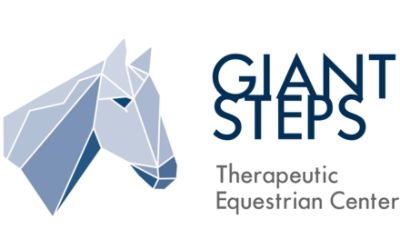 ---
58th Marin Century and Marin Subaru- Thank you - Nigel F
Marin Cyclists are proud and thankful to have once again partnered with Marin Subaru as a sponsor for the Marin Century. 2021 was another successful year for the Marin Century Annual Fundraiser. Marin Subaru's generous support and love of Marin County helped 2100 riders of all levels and ages enjoy the beautiful county and outdoors, helping to promote a healthy lifestyle. Marin Subaru's sponsorship support made it possible to give back to the communities of Marin supporting many Schools, non-profits such as Trips for Kids, AIDS LifeCycle, Marin County Bicyclist Coalition (MCBC) and many more. Marin Subaru's belief in making a positive impact in the communities where we live and work was certainly upheld through their support of this event. We cannot thank Marin Subaru enough for the positive impact they had on helping to sponsor this event. Many Thanks - Marin Cyclists and 58th Marin Century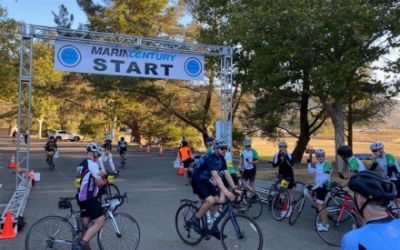 ---
A Love Promise from Subaru to You - Amy C
The Subaru brand has long been associated with trust, reliability, and safety, but you may not know that its commitment to providing remarkable service extends far beyond its vehicles. Through its Love Promise initiative, Subaru of America provides donations and support to a multitude of causes, like education, healthy living, and animal welfare. Nowhere is this Love Promise more apparent than at Marin Subaru in San Rafael. As winners of the 2020 Subaru Love Promise Community Commitment Award, the team at Marin Subaru, led by owner Ed Rossi, continues to support those in need in Marin. On May 7, 2021, Marin Subaru presented a check to Vivalon for $15,356 as part of the 2020 Subaru Share the Love Event. Marin Subaru's continued participation in the Share the Love Event has been essential to providing rides, meals, classes, care, and advice for thousands of older adults in Marin, with donations totaling $78,000 over the past five years. We extend our deepest gratitude to the Marin Subaru team for their continued commitment to helping those in need in our community.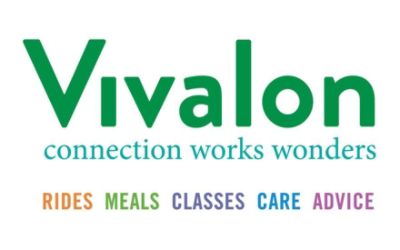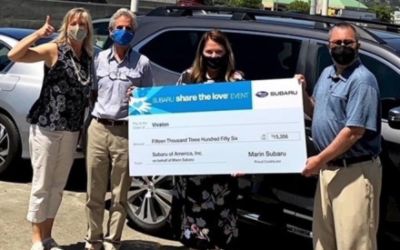 ---
Marin Subaru Shares the Love of Horses - Molly S
Since 1977, Halleck Creek Ranch has helped people with disabilities live a life without barriers through Equine-Assisted Activities (EAA) and therapeutic horseback riding. Each week, participants and volunteers from throughout the San Francisco Bay Area travel to the ranch, which is located in the beautiful Nicasio Valley in Marin County, CA. Ranch staff pair trained horses with dedicated volunteers, creating a dynamic team that carries our special riders into the beautiful Nicasio countryside. Our program uses the powerful therapeutic benefits available through horses and nature to create a better quality of life for children and adults with disabilities, and for the people who care for them. Each year, we hold our "Buckles & Bling" Annual Dinner & Auction to raise funds to support our programs and the people who benefit from them. Marin Subaru has been a Golden Horseshoe Level sponsor for this event since 2015, leading by example through their dedication to philanthropy. As our largest fundraising event of the year, this event raises roughly one third of our annual operating budget, so its success is critical to our ability to serve our community. Thanks to the incredible generosity of our dedicated community of donors, we are thrilled to announce that we not only met, but surpassed our fundraising goal! We received outstanding support towards our Fund A Need - the Halleck Creek Ranch Emergency Preparedness Initiative, allowing us to move forward with the purchase and installation of water tanks (for our use and the use of the Nicasio Valley community at large in case of an emergency), the acquisition of a new horse trailer, as well as an equipment trailer in the case of an evacuation. The support we receive from our donors is crucial to our operation and our ability to maintain our picturesque ranch so it remains a place of solace and respite for those we serve. It also enables us to provide top-quality care and feed to our 18 therapy horses who give their all to our special participants each day, and allows us to retain knowledgeable, dedicated volunteers and employees who believe deeply in our mission. When a community comes together as one, we find that, not only are we stronger together and able to achieve so much more, but most importantly, we are able to help others achieve that which they could not do alone, and live a life without barriers.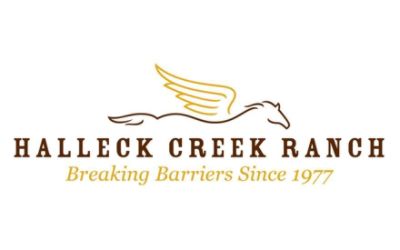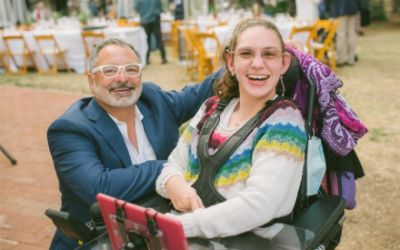 ---